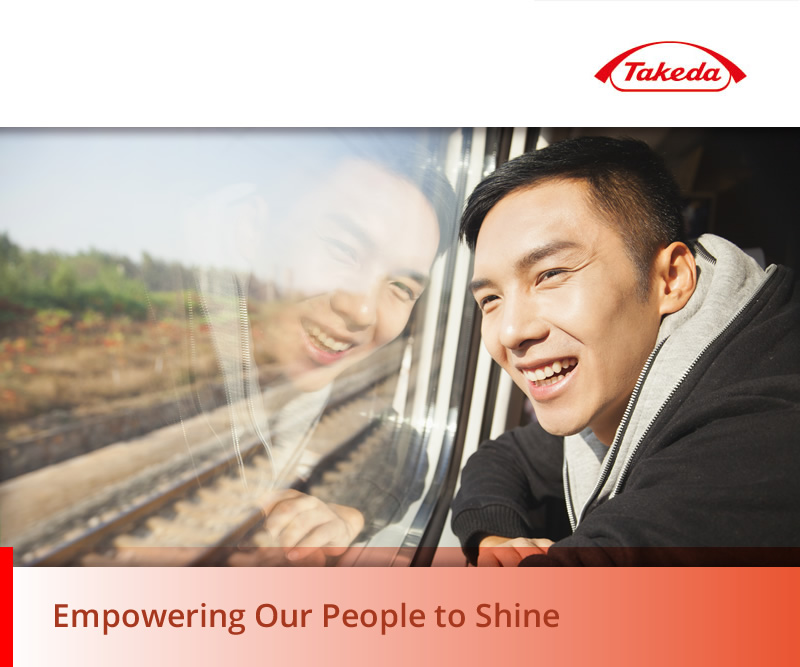 Takeda is a global, values-based, R&D-driven biopharmaceutical leader headquartered in Japan. As Japan's largest pharmaceutical company, Takeda is committed to bringing Better Health and a Brighter Future to patients by translating science into highly-innovative medicines in 80 countries and regions worldwide. More than 2,300 employees work for Takeda at its four locations in Germany. We live our values of Takeda-ism – Integrity, Fairness, Honesty, and Perseverance – and are united by our mission for people worldwide.

Here, everyone matters and you will be a vital contributor to our inspiring, bold mission. At Takeda, you will make an impact on people's lives – including your own.
Are you looking for a patient-focused, innovation-driven company that will inspire you and support your career? If so, be empowered to take charge of your future at Takeda. Join us as an
HR Director/Personalleiter (M/F/D)
Oranienburg Plant
We have an unwavering dedication to put people first and we live our values of Takeda-ism—Integrity, Fairness, Honesty, and Perseverance. We are united by our 235-year legacy of research-based pharmaceuticals and our mission to strive toward Better Health and a Brighter Future for people worldwide through leading innovation in medicine, and we need bright, forward-thinking, ambitious and energetic people to support us on our journey.
Global Manufacturing & Supply is the backbone of Takeda. We strive to ensure that our medicines are made available wherever our patients are. Takeda's production facilities in Oranienburg, has a key strategic role in our global manufacturing network and has been supplying quality medicines to the world since 1873. Fresh air and stunning countryside on the fringe of the cosmopolitan, multicultural city of Berlin makes Oranienburg the ideal place to live as well as work.
The HR Director is the face of HR and a key member of the plant leadership team. As a strong coach and partner to all business leaders, the HR Director's principal area of impact is in shaping the culture of the organisation and implementing people strategies to help achieve the established business priorities.
Accountabilities
Leadership
As a member of Site Leadership Team shape and lead our plant and our people in the spirit of a patient-centric and agile organization
Developing and implementing a People Strategy in line with the overall Plant Strategy
Developing and deploying progressive employment policies to attract, develop and retain top talent at all levels: early career, mid-career and senior leaders
Contribute to the GMS/GQ HR agenda globally, as a senior member of the GMS/GQ HR network and implementing agree initiatives locally
Ensuring HR plans support the needs of the business but are also flexible enough to cope with changes in the organisation, as and when they occur
People Culture and Change
Lead Program AGILE mindset and behaviour workstream ensuring appropriate HR resources are allocated
Performance Management
Embed a performance culture ensuring all employees receive ongoing feedback in line with Takeda's performance management philosophy
Build people manager skills to set appropriate goals and differentiate and recognize individual or team performance
Talent Management
Embedding robust talent management processes at the site– helping the organization map the right people to the right roles, ensuring strong succession planning and capability building for now and the future
Organisation Design
Guide the management team in designing roles and team structure to facilitate empowerment, agility and opportunities for development
Compensation and benefits
Develop compensation and benefit solutions to encourage and recognize high performance, and agile mindset and behaviours;
Employee Relations
Build strong relationships with the relevant Works Council and allocate appropriate resources to work with them on agreements
Resourcing / Employer of Choice
Vacancy management ensuring critical roles are filled on time with high caliber candidates
HR Team Leadership
Develop and manage the on-site HR team
Education and Experience

University degree, ideally in Human Resources
Ideally previous industry related experience, international company experience, multi-cultural environment
Minimum of 5 years generalist HR and/or HR Business Partner experience
Best practice HR partnering to deliver strong business performance
Fluent in business English written and spoken as well as in German
Skills

Result oriented and able to develop plans/solutions and to deliver expected results even in ambiguous circumstances
Skilled in developing HR plans/initiatives and aligning people management practices to support business objectives
Openness and flexibility and ability to deal with and communicate change effectively
Ability to manage and interpret employment laws into pragmatic solutions and navigate line management through its complexities
Business acumen and commercial awareness
Analytical and problem solving skills along with the ability to make timely and balanced decisions
Business communication, negotiating and influencing skills demonstrated by the ability to use a range of different approaches, to persuade others and to gain acceptance of proposals and decisions
Self-motivated, self-starter with the ability to work independently and in a team
Strong interpersonal skills combined with cultural sensitivity
Strong influencing skills
Experience in Talent Development and Talent Management
Change Management experience
Strategic and hands on approach
Why Takeda?

Our values guide how we work and can be felt across every department – for more than 235 years, we have cultivated an ethical work environment filled with Integrity, Fairness, Honesty and Perseverance
We take actions and make decisions by focusing on patient-centricity; your contribution will make an impact on people's lives and change futures every day
The atmosphere in Oranienburg is really special: Start your daily work in a friendly, diverse and open-minded environment. You can spend your lunch break together with your colleagues in our own canteen or outside surrounding the green nature of our plant
After work you can use our company health program to do sports or enjoy the sunny days at the lake
An attractive Compensation/Benefits package and unique development opportunities in a global expanding talent network makes Takeda a Top Employer
Our plant is located in the Greater Berlin area. Public transport will take you from central Berlin to Oranienburg in approx. 30-45 minutes!