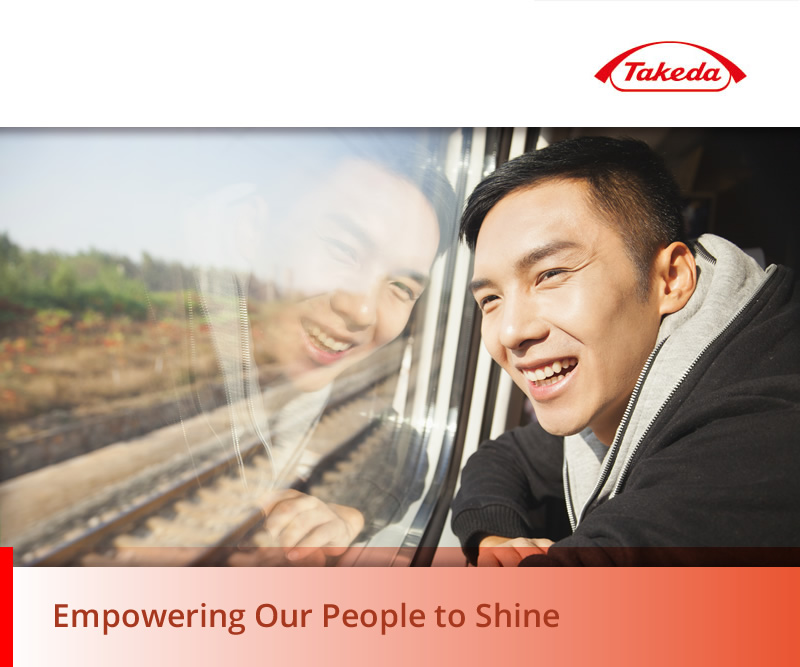 Takeda is a global, values-based, R&D-driven biopharmaceutical leader headquartered in Japan. As Japan's largest pharmaceutical company, Takeda is committed to bringing Better Health and a Brighter Future to patients by translating science into highly-innovative medicines in 80 countries and regions worldwide. More than 2,300 employees work for Takeda at its four locations in Germany. We live our values of Takeda-ism – Integrity, Fairness, Honesty, and Perseverance – and are united by our mission for people worldwide.

Here, everyone matters and you will be a vital contributor to our inspiring, bold mission. At Takeda, you will make an impact on people's lives – including your own.
Are you looking for a patient-focused, innovation-driven company that will inspire you and support your career? If so, be empowered to take charge of your future at Takeda. Join us in our Oranienburg office as a
Manager Data Analytics (f/m/d)
Data Analytics team as a part of Innovation (SPINE) department of Global Manufacturing and Supply (GMS) is on a mission to enhance performance of GMS through Advanced Analytics - Big Data. We want to achieve this by applying Advanced Analytics to optimize process performance (e.g. yield, energy, throughput, quality) through advanced non-linear process modeling and parameter optimization (Machine Learning) and creating non obvious insights through descriptive models or predict unusual events and improve performance. Our aim is to improves performance, e.g. Quality (deviations, data integrity), process robustness (yield), process efficiency (throughput) or energy costs.
Join us in our mission as a Manager Data Analytics in our Oranienburg office, together with our new, innovative global Data Analytics team. You will be empowered to drive the local execution und implementation of the GMSGQ Big Data and analytics strategy and initiatives. You will own, manage and execute local data analytics initiatives and provide the link between local and global GMSGQ data analytics.
Your key responsibilities will be:
Gathering and identifying local data analytics

possibilities/initiatives/requests

in collaboration with IT and global GMSGQ data analytics
Driving the execution for local implementation of GMSGQ data analytics roadmap initiatives
Owning, managing and driving local data analytics initiatives, such as for Predictive Maintenance, Down Time Analysis and respective Database management
Managing the respective functional and cross-functional interdependencies accordingly
Managing and driving local process monitoring and process improvement in collaboration with global GMSGQ data analytics (e.g. descriptive statistics and visualization, statistical process control,

out-of-the-box-tools)

Managing, driving and executing respective reporting in collaboration with global GMSGQ data analytics (e.g. automated

daily/monthly/annual,

Stability Analysis Targets)
Supporting and participating in

global/functional/local

GMSGQ data analytics community
What should you bring:
Expertise and experience in Digital/Big Data Analytics/ Artificial Intelligence/Machine Learning:

Expertise in Signal Processing, Control Systems, Mechatronics
Knowledge of Statistical Process Control
Experience in Machine Learning algorithms (CNN, SVM, LSTM, etc.),
Respective programming knowledge of either MATLAB/Python/R required, further skills such as C++, SQL etc. are advantageous
Experience in quality mapping of parameters is a plus

Expertise in Bayesian statistics:

Experience in Density estimation
Knowledge in Bayesian Hypothesis Testing,
Knowledge in ANOVA and forecasting techniques (ARIMA, ARMA, NARX)
Prior experience of Biostatistics, stochastic modelling and decision trees is a strong asset

University degree of science/business. BSc degree is required, e.g. in

Engineering, Mathematics,

IT or Physics background with focus on e.g. Control Theory/ Statistics/ Mechatronics,

Information/Operation,

Technology, Innovation Management
Capabilities to translate business needs into data analytics concepts and the other way
Hands-on, able to implement and execute initiatives
High level project management skills
Ability to interface with international stakeholders and to connect internal and external data analytics experts of both academia and industries
Fluent written and spoken English mandatory
Desire to put people first and demonstrate the values of Takeda-ism
Why Takeda:
Our values guide how we work and can be felt across every department – for more than 235 years, we have cultivated an ethical work environment filled with Integrity, Fairness, Honesty and Perseverance
We take actions and make decisions by focusing on patient-centricity; your contribution will make an impact on people's lives and change futures every day
The atmosphere in Oranienburg is really special: Start your daily work in a friendly, diverse and open-minded environment. You can spend your lunch break together with your colleagues in our own canteen or outside surrounding the green nature of our plant
After work you can use our company health program to do sports or enjoy the sunny days at the lake
An attractive

Compensation/Benefits

package and unique development opportunities in a global expanding talent network makes Takeda a Top Employer
Our plant is located in the Greater Berlin area. Public transport will take you from central Berlin to Oranienburg in approx. 30-45 minutes