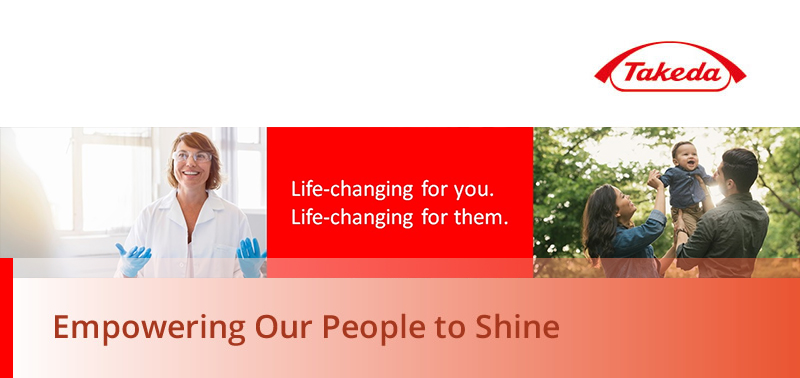 Takeda is a global, values-based, R&D-driven biopharmaceutical leader headquartered in Japan. As Japan's largest pharmaceutical company, Takeda is committed to bringing Better Health and a Brighter Future to patients by translating science into highly-innovative medicines in 80 countries and regions worldwide. The company focuses its research on the therapeutic areas of oncology, gastroenterology, diseases of the central nervous system and rare diseases. Takeda also makes targeted investments in research activities in the areas of plasma-based therapies and vaccines. More than 2,500 employees work for Takeda at its four locations in Germany. We live our values of Takeda-ism - Integrity, Fairness, Honesty, and Perseverance - and are united by our mission for people worldwide.

Here, everyone matters and you will be a vital contributor to our inspiring, bold mission. At Takeda, you will make an impact on people's lives – including your own.
Head of Vaccine Drug Substance Production
(f/m/d)
Are you looking for a patient-focused, innovation-driven company that will inspire you and support your career? If so, be empowered to take charge of your future at Takeda.
Join us in the capacity of Head of Vaccine Drug Substance Production (f/m/d) (f/m/d) in Singen (Hohentwiel), Germany.
As a member of the project team, you will have a critical part in the building of a biopharmaceutical Vaccine Drug Substance Manufacturing Plant in Singen.
Your primary accountabilities will include, but are not limited to:
Building up a completely new production team, including optimized shift models, etc.

Liable for actively run Vaccine Drug Substance Production of Plant Singen at optimum capacity, asset usage and competitive costs within the overall service level agreed with Global Manufacturing and Supply and the Vaccine Business Unit

Responsible for Drug Substance manufacturing, from raw materials through Bulk Drug Substance

Responsible for manufacturing compliance with cGMP, regulatory and legal requirements associated with Vaccine Production activities at Plant Singen

Ensure personal development and succession planning and drive people recruitment & development in line with local and corporate HR initiatives

Live the values, provide leadership, promote communication and adequate information flow, to motivate, encourage and align people to the company's objectives

Develop and maintain organizational structures appropriate to achieve company's objectives

Conduct budget and resource planning for the organizational unit and take responsibility for the budget

Ensure that the requirements of Vaccine Business Unit Supply Chain are met with increasing process efficiency

Implement continuous operational improvement initiatives according to the current GMP standards (EU, US-FDA, Japan) and safeguard GMP compliance at Vaccine Production of Plant Singen in line with quality policies

Contribute to and support activities during audits and inspections in cooperation with Site Quality Organization of Plant Singen
Required Education, Experience, Competencies & Skills
Education
Degree in Pharmacy, Chemistry or Engineering
Experience
Experience in biopharmaceutical Drug Substance Manufacturing, preferable live virus manufacturing. In-depth knowledge of up-stream and down-stream processing unit operations in biopharmaceutical manufacturing, including usage of single-use technologies.

Experience in planning and budgeting

Experience in process management, process analysis, process improvements

Experience in developing and leading large production teams
Skills
Business level language proficiency in German and English;

Leadership experience and skills

Excellent coordination- communication- coaching- and mentoring skills
Overview to Manufacturing at Takeda
Manufacturing is the backbone of Takeda. We are critical functions, ensuring that our medicines are made available wherever our patients are.
We ensure that the work done in research, development and partnerships means our medicines are affordable, accessible and authenticated. It means we can play a vital role in enhancing our patients' quality of life.
We break boundaries in innovation and break down the barriers between our product and the patient.
Global Manufacturing, Supply and Quality is a global organization of 17,000+ people, consists of 10 above site functions and 36 production sites strategically located in Europe, Asia, Americas and the Middle East, headquartered in Zurich and Boston.
Our Production Site in Singen (Hohentwiel)
Our fast growing production site in Singen, closely located to Switzerland, is developing into a "Center of Excellence".
Our 1000+ employees are critical for the annual production of 68 million vials, injections and many more products.
We are a purpose-driven and patient-centric organization. Our mission is to provide medicines that give people hope — hope of better health and a brighter future. To enable this, we foster a working environment where employees are empowered to respond in the best way to the needs of our patients, whatever and wherever they are.
Working with us, you will make a positive impact on people's lives every day — including your own.