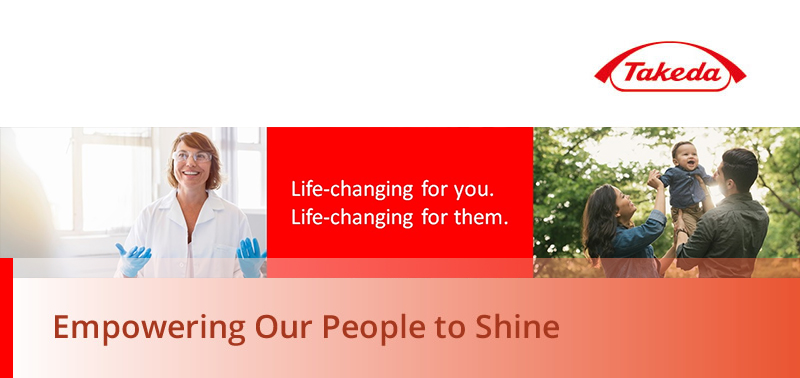 Takeda is a global, values-based, R&D-driven biopharmaceutical leader headquartered in Japan. As Japan's largest pharmaceutical company, Takeda is committed to bringing Better Health and a Brighter Future to patients by translating science into highly-innovative medicines in 80 countries and regions worldwide. The company focuses its research on the therapeutic areas of oncology, gastroenterology, diseases of the central nervous system and rare diseases. Takeda also makes targeted investments in research activities in the areas of plasma-based therapies and vaccines. More than 2,500 employees work for Takeda at its four locations in Germany. We live our values of Takeda-ism - Integrity, Fairness, Honesty, and Perseverance - and are united by our mission for people worldwide.

Here, everyone matters and you will be a vital contributor to our inspiring, bold mission. At Takeda, you will make an impact on people's lives – including your own.
Process Engineer - Drug Substance (f/m/d)
Are you looking for a patient-focused, innovation-driven company that will inspire you and support your career? If so, be empowered to take charge of your future at Takeda.
Join us in the capacity of Process Engineer – Drug Substance (f/m/d) in Singen (Hohentwiel), Germany.
Objectives of the role
As part of Manufacturing Operations Team at Takeda the Process Engineer- Drug Substance (f/m/d) will support the implementation of technology transfer, validation and manufacturing activities, with a focus on manufacturing of drug substance of viral vaccines.
The incumbent will collaborate with external contractors to ensure projects are conducted to an appropriate standard and in timely manner.
The Process Engineer – Drug Substance will be involved in developing technical operations documents, including the establishment of a validation plan, technology transfer protocols and associated study plans and reports.
He/ she will contribute to the development and implementation of global operations systems to drive consistency across Operations within the Global Manufacturing Network.
Accountabilities include, but are not limited to the:
technology transfer, engineering, qualification and validation of new vaccine manufacturing facilities/equipment/processes in compliance with cGMP / Global Regulatory requirements;
management of work packages of investment project to ensure accordance with timelines, policies and procedures;
planning, execution and reporting of validation activities, including data analysis of data and determination of results and conclusion;
responsibility for troubleshooting and improvements during technology transfer. Execution of Change Controls, Investigations and CAPA during validation / manufacturing activities;
collaboration with QA, Quality Control and other support function to ensure smooth progression of process technology transfer and validation exercises.
Required Education, Experience, Competencies & Skills
Education
Bachelor of Science or Master of Science in chemical/biochemical engineering or another related field
Experience
A minimum of 5 years of experience (if Bachelor's Degree) or 4 years of experience (if Master Degree) in the support of start-up, tech transfer, and/or sustaining cGMP commercial biopharmaceuticals manufacturing process operations.
Demonstrated experience/ technical knowledge within biological drug substance manufacturing is required, including mammalian cell culture and down-streaming unit operations.
Experience in working with live viruses is an advantage.
Experience in writing of technical documents, including validation documents, protocols and reports.
Competencies
Thorough knowledge of Good Manufacturing Practice (cGMP) is a must;
Knowledge of statistical analysis tools and Design of Experiments (DoE) as applied in an industrial biopharmaceutical environment
Skills
Business level language proficiency in German and English;
Exceptional communication skills;
Ability to work in teams and in a cross-functional environment (navigate in a matrix organization);
Well organized, detail oriented, with the ability to effectively prioritize tasks;
Eager to learn;
Able to demonstrate reliability and responsibility;
Comply with Takeda safety practices and standard operating procedures
Travel Requirements
Local and/or overseas training attachment may be required.
The participation to equipment FATs is as well needed, mainly during the project phase
Overview to Manufacturing at Takeda
Manufacturing is the backbone of Takeda. We are critical functions, ensuring that our medicines are made available wherever our patients are.
We ensure that the work done in research, development and partnerships means our medicines are affordable, accessible and authenticated. It means we can play a vital role in enhancing our patients' quality of life.
We break boundaries in innovation and break down the barriers between our product and the patient.
Global Manufacturing, Supply and Quality is a global organization of 17,000+ people, consists of 10 above site functions and 36 production sites strategically located in Europe, Asia, Americas and the Middle East, headquartered in Zurich and Boston.
Our Production Site in Singen (Hohentwiel)
Our fast growing production site in Singen, closely located to Switzerland, is developing into a "Center of Excellence". Our 1000+ employees are critical for the annual production of 68 million vials, injections and many more products.
We are a purpose-driven and patient-centric organization. Our mission is to provide medicines that give people hope — hope of better health and a brighter future. To enable this, we foster a working environment where employees are empowered to respond in the best way to the needs of our patients, whatever and wherever they are.
Working with us, you will make a positive impact on people's lives every day — including your own.