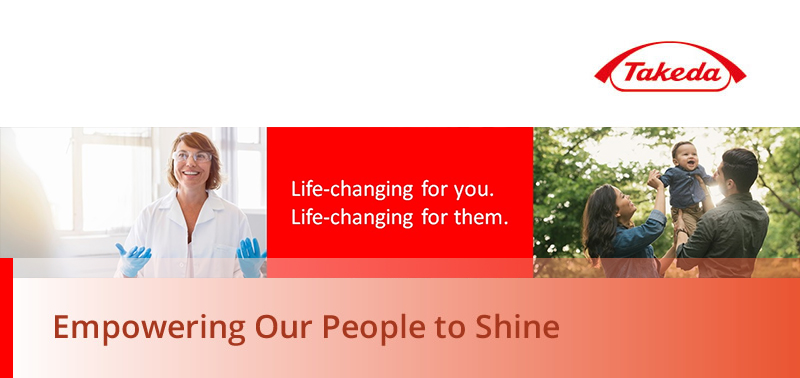 Takeda is a global, values-based, R&D-driven biopharmaceutical leader headquartered in Japan. As Japan's largest pharmaceutical company, Takeda is committed to bringing Better Health and a Brighter Future to patients by translating science into highly-innovative medicines in 80 countries and regions worldwide. The company focuses its research on the therapeutic areas of oncology, gastroenterology, diseases of the central nervous system and rare diseases. Takeda also makes targeted investments in research activities in the areas of plasma-based therapies and vaccines. More than 2,500 employees work for Takeda at its four locations in Germany. We live our values of Takeda-ism - Integrity, Fairness, Honesty, and Perseverance - and are united by our mission for people worldwide.

Here, everyone matters and you will be a vital contributor to our inspiring, bold mission. At Takeda, you will make an impact on people's lives – including your own.
Quality Assurance Specialist - Drug Substance/ Quality Control (m/w/d)
Are you looking for a patient-focused, innovation-driven company that will inspire you and support your career? If so, be empowered to take charge of your future at Takeda.
Join us in the capacity of Quality Assurance Specialist - Drug Substance/ Quality Control (f/m/d) in Singen (Hohentwiel), Germany.
Tasks & Responsibilities
The responsibilities of the Quality Assurance Specialist – Drug Substance/ Quality Control include, but are not limited to:
Collaboration in the establishment of quality assurance for the planned testing of dengue Drug substance

Ensuring the introduction of standards and efficient processes in quality assurance within the QMS- systems change controls, deviations, CAPAs

Ensuring the high quality of the planned Takeda product in accordance with cGMP compliance, EU GMP guidelines, FDA, AMG and AMWHV, as well as all applicable European and international guidelines

Creation of a change control structure for the DS- project as well as Creation, processing and tracking of change control requests related to the project especially in the quality control area

Checking and preparation of method transfer and method validation documents for the quality control area

Checking and preparation of risk analyses for the quality control area
Additional tasks:
Maintenance of the entire change system related to the QC part for the project phase and further routine operations

Specialist for EQMS tasks, contact person to QC Singen regarding Quality management system

Consideration of methods for continuous process optimization
Later Routine role: Quality oversight in the QC (Change Control System, deviations, release activities)
Educational & Experience Requirements
Educational Requirements
Minimum:
Bachelor`s Degree in the field of biotechnology, pharmacy or another natural science discipline
Experience Requirements
Minimum:
3 years of experience in the field of quality assurance/ Quality control in the GMP surrounding within the pharmaceutical industry
Preferable:
additional experience in change controls, deviations, qualification and validation of lab equipment

experience in the vaccines business

experience working with an EQMS-system (Trackwise)
Required Skills & Capabilities
Organizational skills for efficient planning and prioritization even under time pressure

Business fluency in German – to native degree (writing, speaking, reading, hearing)

Advanced language capabilities in English (writing, speaking, reading, hearing)

Ability to communicate effectively with all stakeholders/employees of different seniority levels and level of knowledge and understanding

Team player (values and fosters teamwork, within the team but also with the extended wider employee population)

Good analytical thinking skills

Well versed with MS Office applications
The atmosphere in Singen is really special: Start your daily work in a friendly, diverse and open-minded environment. You can spend your lunch break together with your colleagues in our own canteen or outside surrounding the green nature of our plant. After work you can use our company health program to do sports or enjoy the sunny days at the Lake of Constance. Fresh air and stunning countryside near the cool, clean water of Lake Constance will refresh your batteries for another day full of interesting challenges.
An attractive Compensation/Benefits package and development opportunities in a global expanding talent network makes Takeda a Top Employer.